Our highly skilled and experienced team specialise in all aspects of the repair and restoration of antique furniture as well as the design and build of bespoke furniture to your requirements.
We have been in business since 1952 - over 60 years of dedicated craftsmanship.
Furniture Restoration
We are one of London's leading antique furniture restorers.

Our skilled team of cabinet makers, upholsterers, French polishers and gilders can restore and repair all types of antique and modern or designer furniture such as tables, desks, secretaires, chairs, chaise longues, beds, sideboards and bookcases in our excellently equipped workshop.

Bespoke Furniture
We can design and build items to order. We can reproduce an item you already have or work with you to design and build an original and unique piece of furniture for your home.

When undertaking a new project, we work closely with our clients and appreciate the trust placed in us when we are commissioned to create a piece of bespoke furniture to suit their home.

We are up-to-date with current design trends and always listen to our clients requirements be they for contemporary or traditional styles.

Upholstery
We have highly skilled upholsterers who can re-upholster all types of modern and antique furniture and can advise you on fabrics, leathers, trimmings and stuffings.

We have a selection of fabrics and leathers in our workshop as well as sample books for you to choose from. We can assist you in ordering fabrics/leathers from a wide range of suppliers.
We provide a high quality service to all our customers, many of whom have been bringing their furniture to us for restoration for many years. A large part of our new business comes via recommendations from existing customers.

We provide:
Full written estimates on request with no obligation
In the majority of cases we offer free collection and return within the London postcode area at a time to suit you, including evenings and Saturdays
Collection and return nationwide - please contact us for prices
Highly skilled and dedicated craftsmen with a wealth of experience in their respective fields
Well-equipped workshop using the highest quality products and traditional methods and materials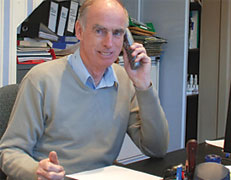 We work on a wide range of furniture so if you are not sure whether something can be repaired or restored, we will be happy to discuss your requirements.

We are always happy to look at any item of furniture and advise you of the options available to you. We will always try to find a solution suitable for your furniture and your budget.
We are located in London between Hornsey Road and Holloway Road, N19 4NP
168c Marlborough Road
London N19 4NP

020 7272 8462
alan@ajbrett.co.uk


Click to view larger map
Testimonials
A.J. Brett has restored several pieces of furniture for us and we have been delighted with the results. They recently restored an Art Deco dining table and two matching chairs. The suite is bird's eye maple and much loved. The table was damaged by removers and two of the chairs had lost some veneer. When they were returned it was impossible to tell where the damage had been. All of the staff we have encountered have been most courteous and helpful. I have no hesitation in recommending the company.
Many thanks to you and your team for all the fantastic work that you have carried out. You'll definitely be my first port of call when any other items need restoration or repair.
Your team did a tremendous job on the furniture. We are very pleased with the outcome and I wanted to thank you all, and we are not easily pleased! So lovely to see when people take pride in their work and care about what they do. Well done guys!
Having carefully examined the two fauteuils I feel I have to write and say what an incredible job you and your team have done. They really are quite perfect. The painting and the upholstery are magnificent. The springing, the position and the tightness of the fabric, the upholstery nails, the sheer excellence of the upholsterer must be acknowledged. They are a triumph and please be so kind as to convey my admiration and gratitude to all those whose skill is demonstrably beyond compare. I am thrilled and please be assured that I shall be asking your excellent firm to do more work for me in the future.
Our lovely Georgian linen press was in a terrible state, having suffered shocking abuse - broken mouldings, cracked varnish, snapped hinges and horrible hooks screwed directly into the mahogany. A.J.Brett and Co collected it, restored it perfectly and returned it to us with efficiency, charm and exquisite expertise.
A J Brett did a great job in bringing back to their original glory my solid oak dining room table and some original 1930's art deco lounge furniture. The damage on one of the chairs has been expertly repaired and it is now impossible to see where the damage was. I would definitely recommend their services.
My wife and I were absolutely delighted with the work carried out by AJ Brett which was of the highest quality and finish. Alan and his team were very helpful and kept us informed on progress throughout. We would not hesitate to recommend them to anyone looking to restore antique furniture, create new build modern furniture or re-upholster leather sofas.
Everyone at A J Brett did an amazing job on my grandmother's furniture. I had five pieces of furniture restored and one stand built. They all look absolutely amazing. They are the same pieces of furniture, but totally transformed, into new beautiful pieces where I can now see the true wood. Great job.
I have always been extremely satisfied with restoration work undertaken at A J Brett. I would not hesitate in recommending their services to provide a 'safe pair of hands' for the sensitive restoration of a small project or the most treasured family heirloom.
I am grateful to the chaps for bringing back the items which look absolutely stunning and I am delighted with them.
I am grateful for your prompt and efficient service. The results are superb.
We are delighted with the work the dumb waiter has been in my family since before I was born and I have never seen it work before wonderful!! Thank you and thank you for the beautiful job on the chairs too.
Thank you for doing such a splendid job.